Capital One Cardholder
Pre-Sale Starts Today
Today is the day – you can finally get tickets to NYCWFF 2022, but only if you have a Capital One credit or debit card! Now through June 16, Capital One cardholders get first access to all of NYCWFF's 80+ delicious events and special perks like Early Entry to our signature events, discounted tickets, Capital One cardholder exclusive events and more. Don't miss your chance to shop the Pre-Sale and purchase tickets to these limited opportunities before our tickets go on sale to the general public on Friday, June 17.
Be First to the Party!
With the purchase of the Capital One Early Entry ticket, you'll receive 30-minute early access to our fan-favorite signature events located at Pier 86, home of the Intrepid Museum. Capital One Cardholders will be the FIRST to taste 25+ of NYC's best burgers at the Blue Moon Burger Bash presented by Pat LaFrieda Meats hosted by Rachael Ray or sample the first round of lasagna at our Friday night Italian themed walk-around tasting event hosted by Alex Guarnashelli and Scott Conant with special guest Whoopi Goldberg.
Exclusive Cardholder Events
Only Capital One cardholders have access to exclusive events at NYCWFF – think sushi rolling with Iron Chef Morimoto or a world-class dining experience with renowned chefs like father-son duo Jean Georges and Cédric Vongerichten, Food Network's Carla Hall or acclaimed chef Marc Forgione. Buy early, limited seats available.
Special Offers to our Grandest Event
The Grand Tasting is the ultimate food and drink extravaganza and the epicenter of NYCWFF. Spend the day at the beautiful Hudson River Park's Pier 76, and you'll taste over a city block's worth of dishes from local restaurants, sample hundreds of top-notch wine and spirits from Southern Glazer's Wine & Spirits, interact with today's most innovative food brands plus enjoy culinary demonstrations from Food Network stars. When you purchase tickets to this event with a Capital One debit or credit card, you'll also enjoy a 15% discount on tickets PLUS priority entry. Or, check out the Cardholder Exclusive Package to spend the entire weekend at a discount!
Sponsor News
Escape to Paris with Air France
Air France and Delta Air Lines are partnering to bring you hourly flights departing daily from New York this summer. With Air France operating seven flights and Delta Air Lines operating two flights, you can fly to the city of lights with ease.
Book Today
More About Our Charitable Partner
30 Million Meals and 30 Million Reasons to Be Grateful
God's Love recently delivered our 30 millionth meal! We are grateful to our staff, volunteers and supporters who have made it possible for us to serve people living with illness for nearly 40 years. A special thank you to Hugh Jackman and Sutton Foster helping us kick off this momentous occasion.
Donate to God's Love
MEET SOME OF THE INCREDIBLE TALENT
JOINING NYCWFF 2022!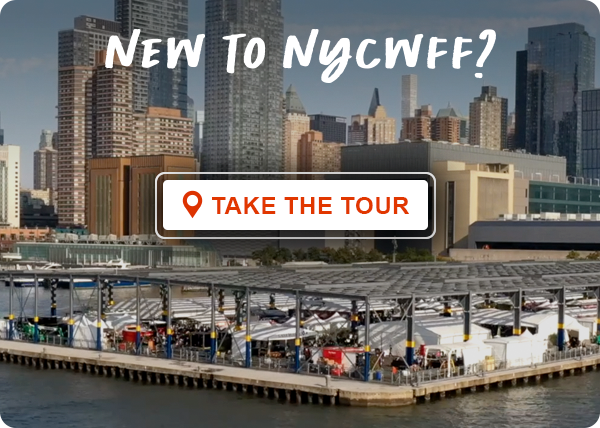 for a full list of talent and events

HOSTED BY

EXCLUSIVE PROVIDER
OF

WINE AND SPIRITS
TITLE

PRESENTED BY
AND OFFICIAL BANK
AND CREDIT CARD
©2022 Food Network New York City Wine & Food Festival presented by Capital One