No Sleep Till NYCWFF!
We are on the edge of our seats with excitement because the 15th annual NYCWFF starts TOMORROW! That's right, we are less than 24 hours from welcoming you to NYC's biggest wine and food festival where we'll celebrate all things food, wine, spirits and New York City with the help of a diverse group of culinary talent including more than 400 chefs and restaurants at our 80+ events. Get ready for four days of incredible food, fabulous cocktails, refreshing beer, top-shelf wine and spirits and non-stop entertainment, all for a good cause: to support God's Love We Deliver, the leading provider of medically tailored meals and nutrition counseling for New Yorkers living with severe illness. Don't have your tickets yet? What are you waiting for!
Tickets are available online, or you can stop by our Box Office located at 38th Street and 12th Avenue, Thursday–Sunday, 9:00 AM–6:00 PM.
May the Best Burger Reign Supreme
All year long, grill masters hone their skills and perfect their toppings, waiting for a chance to compete at our Blue Moon Burger Bash presented by Pat LaFrieda Meats. Host Rachael Ray and judges Sunny Anderson, Willie Colon, Ally Love, Danny Mondello, Adam Richman, Lauren Scala and Melba Wilson will spend days cleansing their palates in anticipation of all the meaty goodness the night will bring. Tomorrow night, YOU the people will show up ready to cast your vote and determine who will leave Pier 86, Home of the Intrepid Museum, as the newest best burger in the city. The Blue Moon flows, the grills sizzle and the crowd roars at our first signature event of NYCWFF 2022. There's one day left to get tickets, don't wait!
Attend the Best of the Fest and Save
Still looking to plan the perfect NYCWFF weekend? Our packages help you narrow down the options or plan a program suited to your specific tastes. Whether you want to hit our Founder's favorites, spend your entire Sunday with us or customize your own selection, we've got an option for every palate. The best part? Buy one of our carefully curated packages and receive a discount of up to 20%. Plus, Capital One Cardholders can purchase an exclusive package to attend both days of the Grand Tasting at a discount.
Read Our Bag Policy Before You Hit the Piers
The Festival has a bag policy for all events taking place at Hudson River Park's Pier 76 and Pier 86, Home of the Intrepid Museum. If your purse is larger than 4.5" x 6.5", leave it at home! Please review our Bag Policy prior to attending the Festival to ensure you do not get turned away at the door.
Sponsor News
Brooklyn's Creative Campus
With over 50 bars + eateries, rotating live music, public fitness classes and seasonal events, no day is the same at Industry City. Check out this great space, starting with the Festival's kick-off happy hour event!
Keep Up with Industry City
More About Our Charitable Partner
You can help make someone's Thanksgiving the best one yet by donating to the God's Love Celebrate with a Plate campaign. For as little as $20, you provide a festive meal for a client living with life-altering illness and their guest.
Support Our Clients
MEET SOME OF THE INCREDIBLE TALENT
JOINING NYCWFF 2022!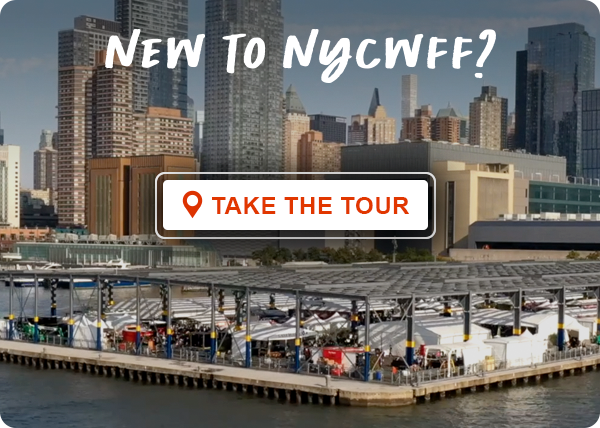 for a full list of talent and events

HOSTED BY

EXCLUSIVE PROVIDER
OF

WINE AND SPIRITS
TITLE

PRESENTED BY
AND OFFICIAL BANK
AND CREDIT CARD
©2022 Food Network New York City Wine & Food Festival presented by Capital One