And The Winning Burgers Are...
Last night, we kicked off NYCWFF's 15th year with just a few burgers...
Over 20 chefs served up their best burgers ever at Blue Moon Burger Bash presented by Pat LaFrieda Meats hosted by Rachael Ray. Major congratulations to Source Urban Brewery wowed the crowd with their Smash Burgers with garlic onion pickles and caramelized onions to take home the Blue Moon People's Choice Award while San Matteo won over the expert panel of judges with their incredible Fresco Burger on wood fired pizza bread to be a repeat Pat LaFrieda's 2022 NYCWFF Burger Bash® Champion. Cheers to NYC's best for flipping some seriously delicious burgers and to our amazing sponsors for kicking off the Festival with an epic night of competition and fun.
Missed out on our first Pier Party? You've got three more days to experience our signature events at Pier 86, Home of the Intrepid Museum!
Tickets to select events are still available online or at our Box Office at 38th and 12th Ave, Friday-Sunday from 9:00 AM - 6:00 PM.
Watch Your Favorite Culinary Stars in Action!
The pier is packed, all that's missing is you! We'll see you tomorrow at the Grand Tasting where you'll roam a city block's worth of food and drink offerings and sample wine, spirits and dishes to your heart's content. Join the live audience at our Culinary Demonstration stage presented by Liebherr Appliances to see some of today's top Food Network personalities in action including Michael Symon, Katie Lee, Jet Tila, Masaharu Morimoto, Carla Hall and Duff Goldman. Then, meet the stars in the book signing area to pick up their newest cookbooks from Kitchen Arts & Letters and snap a photo to commemorate the event.
Make NYCWFF Your Friday Night Plans
What are you up to this evening? Nothing says TGIF like a night out at NYCWFF! Start your evening with Michael Symon and a Mediterranean themed happy hour before heading over to our all-things-Italian Pier Party with Alex Guarnaschelli, Scott Conant, Whoopi Goldberg and 20+ of some of NYC's best Italian eateries. More of a night owl? Whiskey, sake and dumplings reign supreme at Taste of Asia presented by House of Suntory hosted by Jet Tila, and, if you want to get your groove on, meet us at Disco and Drinks hosted by Ben Soffer, aka Boy With No Job, where the cocktails will be flowing and DJ duo Disco Sauce will be playing tunes all night long!
The Best Brunch in Town
No need to fight for a brunch reservation this weekend – NYCWFF has you covered! Whether you're looking for farm fresh festivities, a celebration of oysters or a four-course meal at one of the hottest spots in town, we've got a brunch event for you. There are still tickets left for a variety of brunch offerings on both Saturday and Sunday. Grab your friends and toast to the weekend – it's our anniversary after all!
Sponsor News
Special Offer at the Intrepid Museum!
Explore the aircraft carrier Intrepid and see the 28 aircrafts, including the world's fastest military jet. Discover the space shuttle Enterprise and British Airways Concorde and Growler, the only guided missile submarine open to the public. Get 50% off General Admission tickets, now through Oct 31. (Limit 4) Enter promo code NYCWFF22 at checkout.
Plan Your Visit!
More About Our Charitable Partner
Give Gifts from the Heart
Need help figuring out what to give this holiday season? Shop our holiday catalog and tell your loved ones you care about them all while supporting God's Love We Deliver. From homemade cookies and brownies to innovative spice blends and a gorgeous candle, there's something for everyone.
Visit Our Shop
MEET SOME OF THE INCREDIBLE TALENT
JOINING NYCWFF 2022!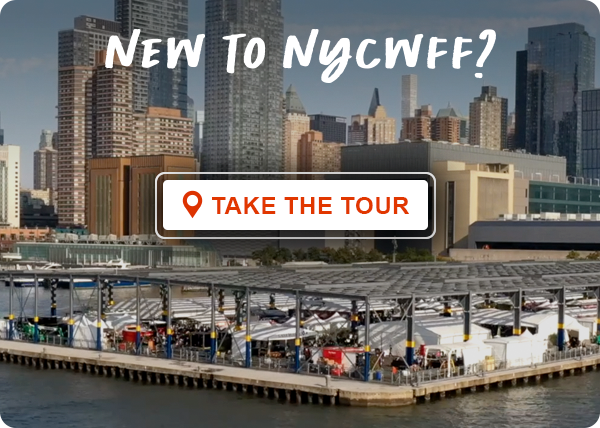 for a full list of talent and events

HOSTED BY

EXCLUSIVE PROVIDER
OF

WINE AND SPIRITS
TITLE

PRESENTED BY
AND OFFICIAL BANK
AND CREDIT CARD
©2022 Food Network New York City Wine & Food Festival presented by Capital One