Fire Up The Grills!
We're heating up the grills and getting ready for the ultimate feast at the Backyard BBQ presented by Pat LaFrieda Meats to close out our 15th anniversary Festival in style. Bring the whole family to Pier 86, Home of the Intrepid Museum, on Sunday afternoon to enjoy top-notch barbecue from the area's best pitmasters along with classic sides and complementary beer, wine and spirits. You'll join hosts Andrew Zimmern and renowned Italian butcher Dario Cecchini to watch experts grill premium steaks, masterfully roast whole hogs and deftly slice slow cooked brisket while you enjoy the fruits of their labor. Don't miss out!
Tonight Is Our Night!
Have we mentioned it's our 15th Anniversary? Tonight we'll be celebrating in style at our 15th Anniversary Dessert Party presented by Rémy Martin, sponsored by Average Socialite. Meet us there with host Kalen Allen for the best sweets in the city, a champagne toast, a showstopping cake and a special performance by Grammy award-winner Rev Run all to commemorate our 15th year of festivities. And if you want even more cocktail fun, hop over to Battle of the Boroughs: A Cocktail Showdown presented by BACARDÍ where we'll find out which borough slings the best cocktail!
Yes Way Rosé!
What better way to spend a Sunday than on a rooftop sipping rosé with your best friends? The only thing we can think of to improve upon that would be to add in a new friend and make that new friend actor and bestselling author Jenny Mollen! Join us at the brand-new Hard Rock Hotel New York for delicious bites and crisp rosé from over a half dozen top cellars including The Pale, DAOU Wines, Hampton Water, Chateau Ste. Michelle and Listel. We think rosé is always in season and always in style, so meet us there as we toast to another year of NYCWFF!
Wear NYCWFF in Style
If one weekend of NYCWFF a year isn't enough, wear your love on your sleeve year-round with great Festival merchandise from Flavour Gallery. Pick up your gear at our Pier events or visit their online store to buy NYCWFF branded t-shirts, sweatshirts, hats and more.
Sponsor News
Travel.Eat.Repeat. Presented by Toyota
Toyota invites you to Travel.Eat.Repeat. at NYCWFF! Find them at the Grand Tasting to take an Aura Portrait to capture your luminous energy at the first-ever 2022 Toyota Corolla Cross, customize an insulated cooler bag in the Toyota Venza and personalize an Arm Candy bracelet. All this and more, compliments of Toyota.
Learn More
More About Our Charitable Partner
Give Back on Thanksgiving
To ensure God's Love We Deliver can cook, package and home-deliver 10,000 meals this Thanksgiving, we need your help! Every year, our volunteers pack meals and make deliveries to ensure our clients receive a warm and festive meal this holiday. Join us and help give back this Thanksgiving!
Register Today
MEET SOME OF THE INCREDIBLE TALENT
JOINING NYCWFF 2022!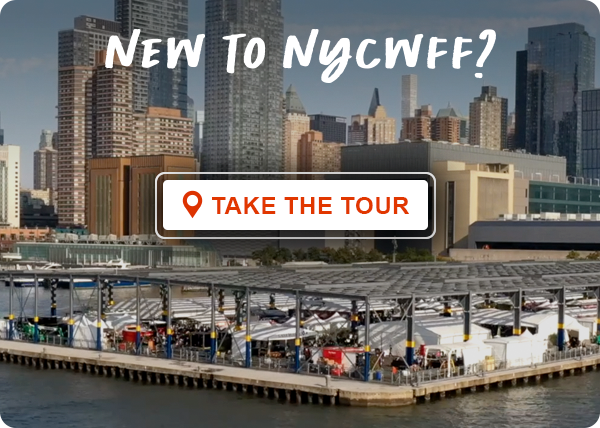 for a full list of talent and events

HOSTED BY

EXCLUSIVE PROVIDER
OF

WINE AND SPIRITS
TITLE

PRESENTED BY
AND OFFICIAL BANK
AND CREDIT CARD
©2022 Food Network New York City Wine & Food Festival presented by Capital One