Buon Appetito!
Our love of Italian food has no bounds, and this year at NYCWFF, we're sharing that love with you. From our Italian themed intimate dinners to an Aperitivo happy hour, a pizza party and a blow-out pier party – we've got it all! Read on for more details on all things Italian at NYCWFF, and don't miss this year's Friday night signature event, Peroni's Taste of Italy presented by Fratelli Beretta, our ode to all things Italian. We'll join our hosts Alex Guarnaschelli and Scott Conant along with special guest Whoopi Goldberg to indulge in pasta, pizza, meatballs and more from NYC's best Italian restaurants plus delicious Italian beer and wine along with themed cocktails. Take your taste buds on an authentic Italian journey – no plane ticket required!
Pizza with a View
Ask anyone, and they'll tell you New York City is home to the best pizza. The city has every style from Neapolitan to thin crust to, dare we say, deep dish, but you can't beat a wood-fired slice straight from the oven. For our Ultimate Pizza Party, we've rounded up some of the best versions in the city so you can taste them for yourself. Join the "Cake Boss" and owner of Las Vegas pizza joint Buddy V's Ristorante Buddy Valastro in Brooklyn Bridge Park where gorgeous waterfront views are only upstaged by the aroma of freshly baked pies. A wide variety of refreshing beer, wine and cocktails perfectly paired with pizza from a dozen of NYC's top pizzaiolos make this a can't-miss afternoon of fun.
A Toast to NYCWFF!
Kick-off our 15th anniversary Festival weekend at our opening happy hour with Italian cocktails and bites. Toast with your host, cookbook author and Food Network personality Anne Burrell, while you feast on bruschetta, porchetta and cheesy, delicious small bites and sip on spritzy cocktails and sumptuous Italian wine and beer. Start your weekend early with us at Mohegan Sun's Aperitivo part of the LIVEHAPPilly series presented by illy caffè. SALUTE!
Dine With Friends
What happens when two Top Chef alumni come together in the kitchen to celebrate their Italian heritage? You'll find out at a very special Festival dinner at Bar Cicchetti in Chelsea prepared by celebrity chefs Angelo Sosa and Fabio Viviani. They'll be preparing a lavish dinner inspired by their world travels and palate pioneering friendship. Expect arancini, tuna crudo, squid ink cavatelli and something sweet to finish off an exceptional night along with thoughtful wine pairings provided by Frescobaldi.
Sponsor News
Norwegian Cruise Line's award-winning ships offer immersive dining experiences at their specialty restaurants and authentic dishes from around the world as you sail to incredible destinations. Taste some of the delectable dishes that Norwegian Cruise Line has to offer at NYCWFF's Pier Parties!
Discover More
More About Our Charitable Partner
Join the God's Love Volunteer Community
To ensure our clients living with illness receive uninterrupted service, join us for a shift. Whether you want to spend the day chopping veggies, packing meals or making deliveries, there's a place here for you. Make God's Love part of your fall plans!
Sign Up
MEET SOME OF THE INCREDIBLE TALENT
JOINING NYCWFF 2022!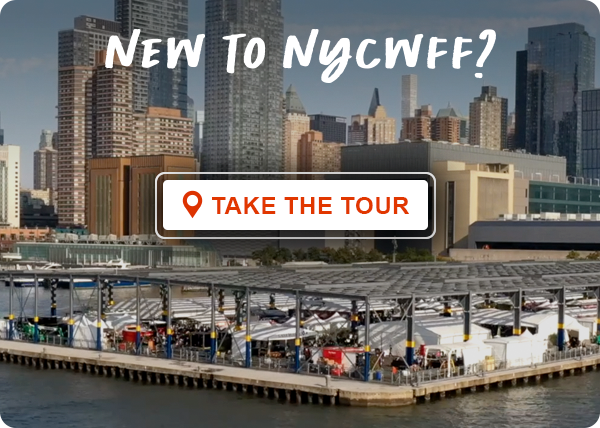 for a full list of talent and events

HOSTED BY

EXCLUSIVE PROVIDER
OF

WINE AND SPIRITS
TITLE

PRESENTED BY
AND OFFICIAL BANK
AND CREDIT CARD
©2022 Food Network New York City Wine & Food Festival presented by Capital One