Friday Night Fever
We are taking you back to the 70s at our brand new event – Disco and Drinks: A Night of Classic Cocktails! Join us to sip on innovative cocktails from over a dozen of today's best spirits brands alongside our host, Ben Soffer, aka @boywithnojob and founder of Spritz Society, a delicious, new, canned wine spritzer. NYC-based experiential music group Disco Sauce will be spinning one of their signature, seasonal playlists curated just for the occasion to get you in the mood, and when you're ready to take a break from the dance floor (and the cocktails!), you'll dine on enticing dishes and high-class bar food made by some of NYC's top restaurants. Grab your friends and get ready to disco!
Get Special Access with Capital One
Capital One Cardholders are invited to experience exclusive perks at NYCWFF! Cardholders can access special pricing, packages, early access to our signature events like Blue Moon Burger Bash presented by Pat LaFrieda Meats hosted by Rachael Ray, an exclusive event with burger phenom Shake Shack and so much more. But hurry, these offers have limited tickets left – don't wait!
Dining Experiences Unlike Any Other
Our Intimate Dinner Series is a cornerstone of the Festival, and this year we've filled it with amazingly talented chefs from across the city, country and world. Each menu will be created by an exciting duo of chefs and thoughtfully paired with wines and spirits. Lucky for you, there are still seats left to sample these expertly curated menus at some of the best restaurants and venues in the city. Don't miss your opportunity to dine with luminaries such as Michael White, Stephanie Izard, Dani García and Lauren Von Der Pool. Whether you're interested in French technique, a Spanish feast, the finest pasta in the city or a vegan soirée, we've got something for you!
Sunday Funday at NYCWFF
Looking to spend a full day at the Festival? Make it Sunday with our Sunday Funday Package! Attend our biggest event, the Grand Tasting, for a full city block's worth of spectacular food and drink offerings outside at Hudson River Park's Pier 76 then walk up a few blocks to Pier 86, Home of the Intrepid Museum, to indulge in incredible barbecue at our Backyard BBQ presented by Pat LaFrieda Meats. Buy the two events together as part of the Sunday Funday package and save 20%!
Sponsor News
Bobby's Triple Threat is the hardest cooking competition on television, and the stakes have never been higher. Watch as one talented chef is challenged to go against the trio of culinary titans handpicked by Bobby Flay himself.
Premieres September 27th at 9/8c.
Learn More
More About Our Charitable Partner
Would You or Someone You Know Benefit from Free, Nutritious Meals?
God's Love is welcoming new clients to our program every day! If you know someone who qualifies for our meal program, please reach out. We've expanded to serve people with gestational diabetes and veterans diagnosed with a mental health and/or substance use challenge.
Sign Up
MEET SOME OF THE INCREDIBLE TALENT
JOINING NYCWFF 2022!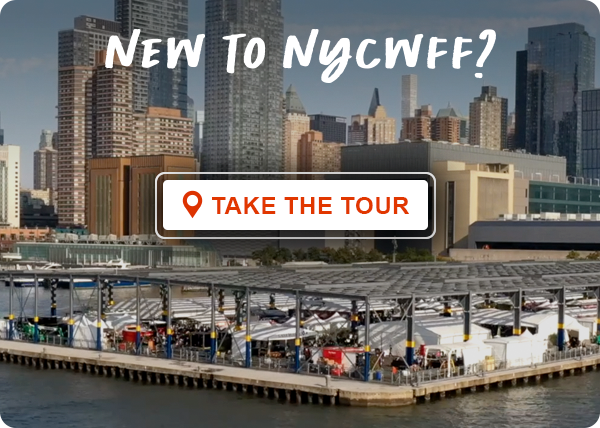 for a full list of talent and events

HOSTED BY

EXCLUSIVE PROVIDER
OF

WINE AND SPIRITS
TITLE

PRESENTED BY
AND OFFICIAL BANK
AND CREDIT CARD
©2022 Food Network New York City Wine & Food Festival presented by Capital One