Meet Your Blue Moon Burger Bash Judges
Get excited because the 15th edition of our Blue Moon Burger Bash presented by Pat LaFrieda Meats is back and going to be the biggest battle of the burgers ever! If you've been to this event, you know it's always a blast, and this year our participants will be pulling out all the stops to help us celebrate our anniversary. Long-time host Rachael Ray will get the party going as you taste more than 20 of the city's top burgers then vote on your favorite to win the Blue Moon People's Choice Award. If that's not enough, chefs are also competing for the coveted Pat LaFrieda's 2022 NYCWFF Burger Bash® Champion Award chosen by a panel of celebrities. This year's judges include Peloton instructor Ally Love, Super Bowl Champion Willie Colon, television host Adam Richman, influencer known as Meals by Cugine Danny Mondello, restaurant owner Melba Wilson and host of WNBC's New York Live Lauren Scala. Don't miss out on our most popular event!
Every Hour is Happy Hour!
At NYCWFF, we love to indulge in a few cocktails and delicious bites before a night of fun. We invite you to join us and kick back at our themed happy hour events at the exciting event space at Industry City in Brooklyn. Kick-off Festival weekend with Mohegan Sun's Aperitivo hosted by Anne Burrell where you'll enjoy Italian appetizers and spritzy cocktails. Keep the party going on Friday night at The Botanist presents Flavors of the Mediterranean hosted by Michael Symon where your taste buds will travel from the Iberian Peninsula to North Africa, the Adriatic and the Middle East. Grab your friends and start the night off right at our ultimate happy hours as part of the LIVEHAPPilly series presented by illy caffè.
Plus, we've got a special offer for groups! Buy two or more tickets and get 20% off by using the codes aperitivo20 or flavors20 at checkout.
LIVEHAPPilly at NYCWFF
With over 80 events packed into a four-day-weekend, NYCWFF has an overwhelming number of options to choose from. Luckily, the LIVEHAPPilly Series presented by illy caffè has a wide variety of offerings, including everything from a family friendly brunch to walk-around happy hours and elegant, seated lunches and dinners. Start your morning with illy at our Farmer's Market Brunch presented by White Claw hosted by Geoffrey Zakarian or find them featured in dishes at Dinner with Michael White and Wilfrid Hocquet. Whichever event in the series you choose, be sure to experience the pleasure of a perfect cup of illy coffee.
Get Hands On
There's still time to purchase a ticket to some of our amazing Master Classes. You'll learn from the best in the business and take home new skills and techniques to incorporate into your own cooking. Master mezze with the team from Middle Eastern favorite Lamalo, create Cantonese-American classics with Calvin Eng of Brooklyn hot spot Bonnie's, craft Caribbean cocktails with the bartenders from Kokomo, make better-than-takeout Chinese favorites with the family behind the popular blog Woks of Life or become a blended scotch expert with Dewar's. With so much talent in the lineup, you can't go wrong with any class you choose!
Sponsor News
Explore Hudson River Park
Hudson River Park is a 550-acre park and estuarine sanctuary spanning four miles along the west side of Manhattan. The Park offers river's edge dining, views, gardens, sports, environmental educational & more, 365 days a year. There's something for everyone – join the fun before or after you go to the Grand Tasting at Pier 76.
Find your HRPK journey
More About Our Charitable Partner
NYCWFF would not be possible without our amazing volunteers. Become part of a community of over 1,500 volunteers by signing up for a shift with God's Love We Deliver. We are looking for volunteers to work in a wide variety of roles from event support to culinary assistance. Have fun Festival weekend while giving back. Grab your friends and sign up for a shift!
Register Now
MEET SOME OF THE INCREDIBLE TALENT
JOINING NYCWFF 2022!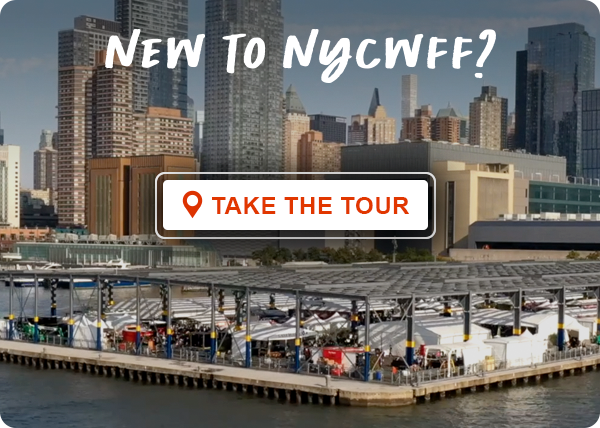 for a full list of talent and events

HOSTED BY

EXCLUSIVE PROVIDER
OF

WINE AND SPIRITS
TITLE

PRESENTED BY
AND OFFICIAL BANK
AND CREDIT CARD
©2022 Food Network New York City Wine & Food Festival presented by Capital One